The city of Ferrara, in northern Itally, will be hosting the European Universities Championship in Golf, in 2023. The event will take place from 5-9 of September.
On 8 and 9 of November, EUSA Secretary General Mr Matjaz Pecovnik, EUSA Sports Manager Mr Miha Zvan and EUSA  Assistant Sports Manager, Mr Mariano Carcatella, did an Inspection visit in Ferrara, to evaluate and take a closer look at the organisational plan and the ongoing preparations for the European Universities Championship in Golf.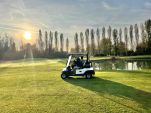 During this inspection visit, the Organisational Committee was represented by the Coordinator of the OC team - Mr Gianni Rossi and the Vice Coordinator of OC - Mr Pierluigi Tretini.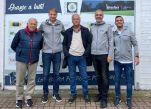 On thefirst day of the Inspection Visit, EUSA and OC representatives, had a meeting with the President of CUS Ferrara, expressing his full support for the European Universities Golf Championship, as well as a video call with the Director of the CUS Ferrara Golf Club. The board of CUS Ferrara also had the chance to see a presentation about EUSA.
n the second half of the day, the Inspection group was visiting the accommodation venue ERGO, at University of Ferrara, did a general Inspection of the Golf pitch and had met the captains of the men and women team golf teams of CUS Ferrara.
The second day of the Inspection visit was reserved for meetings with the Sports Counselor Mr Andrea Maggi at the Municipality of Ferrara, as well as a meeting with the Secretary General of Golf CUS Ferrara. EUSA team and OC team also did a check on the second golf pitch and visited the location for the Opening Ceremony. They also had the chance to meet with Prof. Gianni Mazzoni, Delegate for sports of University of Ferrara. 
EUSA representatives, thanked the OC for great meetings and very good preparations, while highlighting the support of the local stakeholders and the satisfaction that the European Universities Championship in Golf in 2023 will be hosted in Ferrara, the city of art, culture and historic centre declared as UNESCO World Heritage, giving the athletes and other participants a chance to experience more besides the great competition that is being organised.